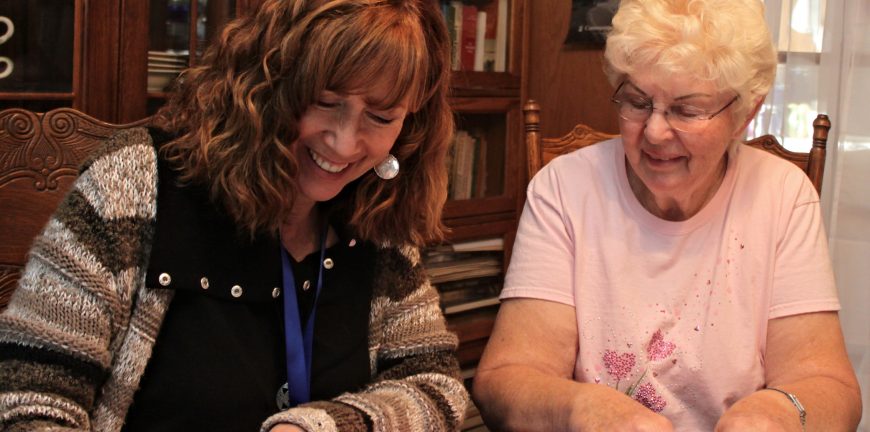 OSEC places first volunteers
"Trapped. I'm homebound too," is how Jane Bartley of Rough and Ready described her situation. She is caring 24/7 for her husband, a Vietnam veteran suffering from dementia and PTSD.
That all changed last month when Volunteer Care Specialist Deborah Rousseau arrived for the first of weekly visits to relieve Bartley of caregiving duties for four hours.
First, thing on Bartley's agenda: "I'm going to go shopping for groceries."
In the coming weeks, she said she intends to return to volunteering as a docent at the Searls Historical Library, go shopping, have lunch with friends, and get her hair done.
"It's fantastic, wonderful," Bartley said March 9 in a follow-up interview. "Deborah is great!"
"Four hours a week may not seem like much, but it means freedom to a caregiver," said Donna Raibley, who speaks from experience. "We're giving them hope.'
Three years ago, Raibley was giving her friend Yvon Dockter periods of respite from caring for her husband Craig Dockter, who was dying of cancer. As reported in The Union last August, Raibley promised Craig Dockter shortly before he passed that she would create a respite service for caregivers.
Raibley kept that promise and created One Source – Empowering Caregivers (OSEC), a nonprofit organization that provides free respite to caregivers.
Years of planning, months of preparation, weeks of training – and more weeks of waiting for background checks — all came to fruition late in February when OSEC placed its first team of a dozen highly trained Volunteer Care Specialists in caregiver homes.
That's the good news. The bad news is that "we still have a waiting list," said Raibley, who is the unpaid executive director OSEC. "We need more volunteers."
Therefore, OSEC is gearing up to train a second team of volunteers starting April 22.
PAYING IT FORWARD
Yvon Dockter was one of the first people to sign up for training as a Volunteer Care Specialist last fall.
"The training was really good. It was so thorough," said Dockter, who is providing companionship care for a 98-year-old woman.
She added, "This is so needed. It doesn't seem like much, but to the caregiver it's a big deal."
The caregiver who is receiving respite care from Dockter for her mother prefers to remain anonymous, but she said on Facebook, "I cannot express in words just how wonderful it is to be finally getting some help after over a year of being on my own."
She added, "It is going to help so much with my well-being. Thank you, Donna, thank you, Yvon, and thanks to all involved in accomplishing this!"
Another caregiver, also wishing to remain anonymous, wrote on the OSEC Facebook page: "I am fortunate to be one of the caregivers that has been able to benefit from OSEC. What a HUGE blessing volunteer Sue Flynn has been to us. Mom loves her, and I feel so comfortable when I leave to run errands or get out for a much-needed break with my husband. Thank you so much for what you do!"
Even if a caregiver self-identifies on Facebook, OSEC complies with the strict privacy protocols of the federal Health Insurance Portability and Accountability Act (HIPAA). Without express written permission, OSEC will not release names of clients.
TRUST AND SAFETY FIRST
"We are sending people into private homes," explained Raibley. "We want our caregivers to be completely confident that our volunteer specialists have been thoroughly trained, background checked and medically cleared."
Likewise, before a Volunteer Care Specialist is placed in a home, one or more OSEC Assessment Care Team members visit the home to make sure it is a safe and appropriate environment for the Volunteer Care Specialist.
The Assessment Care Team is comprised of four registered nurses: Diane Miessler, Cindy Cooper, Kristen Whitehead and Maggie Cull.
Miessler said the team assesses the medical condition of the care recipient, the resources of the caregiver and the "desperation" of the caregiver.
Not all caregiver requests can be honored. "While the Volunteer Care Specialists are trained to handle medical emergencies, they are instructed not administer medication or perform hands-on caregiving duties," Raibley emphasized.
Furthermore, OSEC will not send a Volunteer Care Specialist into an unsafe environment. For example, a volunteer will not be placed in a home where there are illegal drugs or other criminal activity happening.
Currently, however, the main reason OSEC can't service all the qualified caregiver homes is simply because, "We don't have enough volunteers," said Raibley, who has taken on a Volunteer Care Specialist assignment herself.
OSEC NEEDS A FEW GOOD MEN AND WOMEN
"We need compassionate people to volunteer four hours a week to give a caregiver a break – secure in the knowledge that their loved one is in safe, capable hands," Raibley said.
The free training for up to 20 new volunteers is set to begin Saturday, April 22, in the OSEC offices. It will consist of three Saturdays, complete with lunches and a comprehensive training manual.
"We make the training educational – and fun!" said Raibley, who brings the enthusiasm of a cheerleader, the passion of a missionary and the professionalism of an executive director to OSEC.
"Have a heart, give a hand to a caregiver," Raibley appealed.
[/vc_column_text][/vc_column]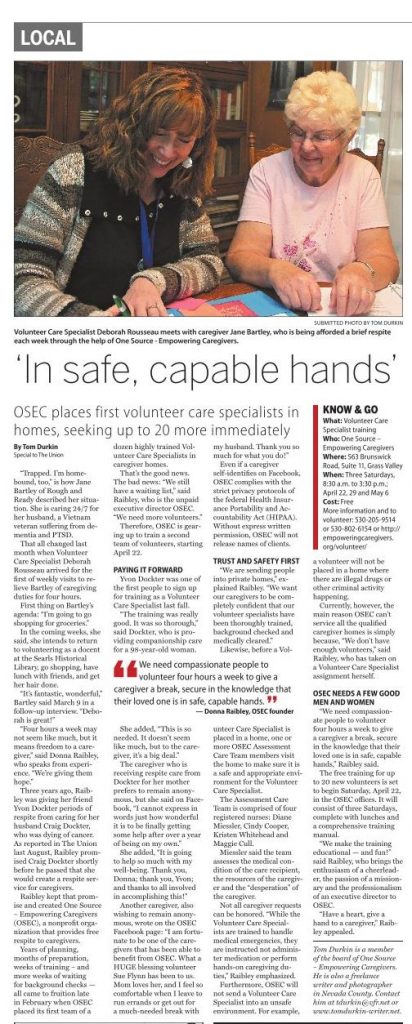 KNOW & GO
What: Volunteer Care Specialist training
Who: One Source – Empowering Caregivers
Where: 563 Brunswick Road, Suite 11, Grass Valley
When: Three Saturdays, 8:30 a.m. to 3:30 p.m.; April 22, 29 and May 6
Cost: Free
More information and to volunteer: 530-205-9514 or 530-802-6154 or https://empoweringcaregivers.org/volunteer/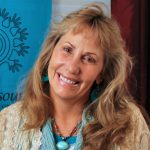 [/vc_row]