Check out our new text based donation platform.

One Source -Empowering Caregivers has been actively involved in supporting in-home caregivers in Nevada County since 2015. Recognizing the uniqueness of the role as 24/7 caregivers, in-home caregivers tirelessly and faithfully keep their frail loved one at home, safe and surrounded by the life of loving family and friends. There is no one more generous than a caregiver.
One Source-Empowering Caregivers is participating the GLOBAL DAY OF GIVING. This movement unleashes the power of world generosity and reimagines the gift of shared humanity. The common mission of Giving Tuesday is to build a world where generosity is part of everyday life. Everyone has something to give; every act of generosity counts.
One Source-Empowering Caregivers has a new secure donation platform…GIVE LIVELY.
Please make your donation by texting OSEC to 44321. This platform may be used at anytime for donation giving.
We believe that every in-home caregiver deserves to maintain their own health and wellbeing, while making their loved one smile and continue to stay at home.
We call this "THE PROMISE."
PLEASE DONATE NOW…
Thank You!
---
The Union Newspaper issues new quarterly "Aging Well"
Please Click the Link here or the photo below to open the online pdf version of aging well.
Thank you to The Union Newspaper for printing this much needed source of information.
---
Nevada County Now to Offer On-Demand Service for Seniors and People with Disabilities.
The Nevada County Transit Services Division and Nevada County Now paratransit services are pleased to announce that, effective August 1, 2023, Nevada County Now will begin offering same day on-demand services to our disabled community members. This means that seniors 65 and over and eligible members of our disabled community can call for same day, on-demand rides instead of having to book rides a day or more in advance.
This service will operate in conjunction with our current Senior on-demand service, and will be provided within the regular Americans with Disabilities Act (ADA) service area (download a PDF map).
Disabled individuals must be ADA certified by Nevada County Transit Services in order to be eligible to use the on-demand service. Applications for ADA certification may be found at on the Nevada County Now paratransit webpage.
The on-demand service will operate Monday through Friday, from approximately 6:30 am to 7:30 pm and Saturdays 7:30 am to 5:00 pm, depending on space availability and resources. The fee is $4.00 per one-way trip. Trips may be scheduled by calling Nevada County Now at 530-271-7433.
Surgeon general lays out framework to tackle loneliness and 'mend the social fabric of our nation'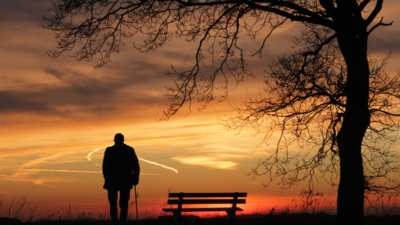 US Surgeon General Dr. Vivek Murthy released an advisory Tuesday addressing the "epidemic of loneliness and isolation" affecting the country and laying out a framework for a "National Strategy to Advance Social Connection."
The advisory is part of the Biden administration's broader efforts to address mental health, White House press secretary Karine Jean-Pierre said Monday.
"In recent years, about one-in-two adults in America reported experiencing loneliness," Murthy says in the advisory. "And that was before the COVID-19 pandemic cut off so many of us from friends, loved ones, and support systems."
Research has showed that loneliness and isolation
are linked
 to sleep problems, inflammation and immune changes in younger adults. In older people, they're tied to symptoms such as pain, insomnia, depression, anxiety and shorter life span. In people of all ages, they may be associated with higher risks of heart disease, stroke, diabetes, addiction, suicidality and self-harm, and dementia.
But social connection can help, Murthy's office said in a statement, serving as a buffer to health problems while making communities more resilient.
"Loneliness I think of as a great masquerader. It can look like different things," Murthy told CNN's Erin Burnett on Monday. "Some people, they become withdrawn. Others become irritable and angry. … I think the time you get concerned is when you start experiencing a feeling of loneliness for prolonged periods of time. If you feel lonely, you pick up the phone and call a friend, and then it goes away, or you get in the car and go see a family member, that's OK. That's loneliness acting like hunger or thirst, a signal our body sends us when we need something for survival. It's when it persists that it becomes harmful."
Social connection is as essential to humanity as food, water or shelter, the advisory says. Humans have historically needed to rely on each other for survival, and modern people remain wired for that connection and for proximity to others.
"Given the profound consequences of loneliness and isolation, we have an opportunity, and an obligation, to make the same investments in addressing social connection that we have made in addressing tobacco use, obesity, and the addiction crisis," Murthy says in his advisory. "We are called to build a movement to mend the social fabric of our nation. It will take all of us – individuals and families, schools and workplaces, health care and public health systems, technology companies, governments, faith organizations, and communities – working together to destigmatize loneliness and change our cultural and policy response to it."
The framework is rooted in six pillars.
The first, strengthening social infrastructure in communities, involves boosting programs like volunteer organizations or religious groups, policies like public transit or education, and physical elements like libraries and green spaces.
"Investing in local communities and in social infrastructure will fall short if access to benefits is limited only to some groups," the advisory notes. "Equitable access to social infrastructure for all groups, including those most at-risk for social disconnection, is foundational to building a connected national and global community."
The second pillar calls for more "pro-connection public policies." Governments and institutions are urged to adopt an approach that recognizes that policies can benefit or hinder connection and that "every sector of society is relevant to social connection." Policymakers should focus on reducing disparities in connection.
The third pillar relies on the crucial role of public health and health care delivery systems to address social connection. Murthy calls for increased investment in educating health care providers about the physical and mental benefits of social connection and the risks of disconnection. Patients' needs should be assessed and supported, and organizations should track prevalence of disconnection in communities and advance local solutions, he says.
For the fourth pillar, reforming digital environments, Murthy singles out the "tangible impact" of technology on Americans' daily lives and connections. "Technology can also distract us and occupy our mental bandwidth, make us feel worse about ourselves and our relationships, and diminish our ability to connect with others. Some technology fans the flames of marginalization and discrimination, bullying, and other forms of severe social negativity."
The fifth pillar, deepening knowledge, urges stakeholders such as officials, policymakers, health care providers and researchers to collaborate on a research agenda to address gaps in the data. "Consistent measurement will be critical to better understanding the driving forces of connection and disconnection, and how we can be more effective and efficient in addressing these states."
The final pillar urges a culture of connection in which Americans "cultivate values of kindness, respect, service, and commitment to one another." Everyone can use their voice to emphasize these values and model healthy connections, Murthy says, and the nation's institutions should invest in demonstrating them.
The advisory concludes with suggestions about how specific groups – including governments, health organizations, schools, workplaces and individuals – can help advance social connection.
Parents and caregivers have an especially powerful role, the advisory says. They can model healthy connection by spending time together, setting aside time for screen-free socializing, and engaging in constructive conflict resolution. They're also urged to encourage individual friendships and group activities, to be aware of how young people spend their time online and to watch for potential warning signs of loneliness or isolation.
Individual Americans might take time out of each day to connect with a friend or family member and minimize distractions during conversations. Regularly practicing service and gratitude can encourage others to do the same. Cut back on things that lead to disconnection, such as harmful social media use or time spent in unhealthy relationships. Be open with health care providers about significant social changes that may affect levels of connection, and reach out to a loved one, counselor, provider or crisis hotline in times of struggle.
https://www.cnn.com/2023/05/02/health/murthy-loneliness-isolation/index.html