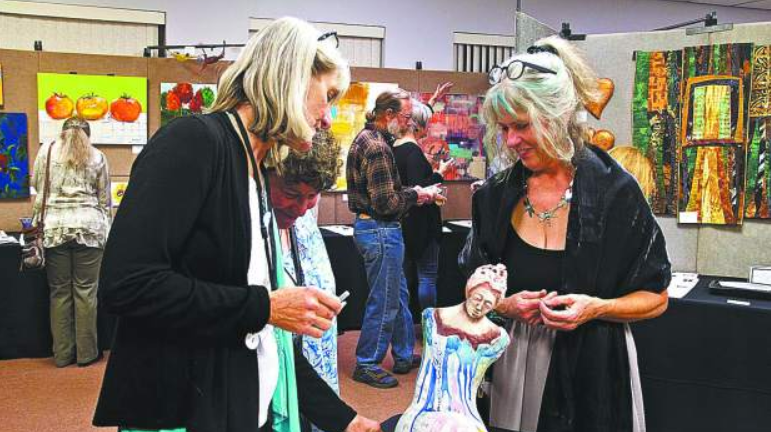 One Source-Empowering Caregivers benefits from HeART & Wine Gala
While they're still adding up the numbers, the Second Annual HeART & Wine Gala for One Source-Empowering Caregivers was "a resounding success" said Donna Raibley, executive director of One Source in a release.
More than 150 people filled the Ponderosa Hall on the Nevada County Fairgrounds on the evening of Oct. 20 to bid on more than 350 items during a silent art auction, she said.
"The gala was extremely well-organized. The art was exquisite, the music was great, food was good," said guest Julia Amaral. "It was a very nice event."
In addition to art, music and appetizers, the evening featured a sneak peek of "It Takes a Village," a new documentary about One Source-Empowering Caregivers.
Under the direction of auction curator Flo Fahrenheit, volunteers and contributing artists transformed a bare-walls room in the hall into a fine art gallery, filled with donations from local artists. Kelly Fleming on guitar performed.
Meanwhile, the main room of the Ponderosa was turned into a banquet hall complete with color-coordinated tablecloths and lighted seasonal centerpieces.
The Purdon's Crossing quartet got the party started after the auction closed. The big-band Earles of Newtown capped off the gala with their distinctive and danceable blend of New Orleans jazz, Chicago blues and Texas swing.
Master of ceremonies Gil Mathew kept activities running smoothly and on time.
Raibley expressed appreciation for the dozens of volunteers who made the event such a success.
"The volunteers were astonishing," she said. "Every helping hand created an atmosphere of generosity and cooperation."
"It was so organized, and the team we had was amazing," agreed Chic Lotz, the auction display manager. "Everyone who volunteered came from the heart."
Saturday night, guests were also given a sneak peek of "It Takes a Village." Narrated by Raibley, the documentary by Tom Durkin features more than two dozen interviews with the "village people" who make up the living organism that is One Source. Saturday night's preview presented interviews with One Source-trained volunteer care specialists and the caregivers they serve.
The 30-minute video will debut this weekend during the training of the fifth class of volunteer care specialists, Raibley said.
The first two segments of the video have been posted on the organization's Facebook page. Additional sections will be added weekly, according to Raibley.
She added the documentary will be a staple of One Source's presentations to civic and governmental organizations.
"Too many people still don't know what we do," she said.
One Source provides up to four hours a week of free respite to 24/7 caregivers, Raibley said. Screened and trained volunteer care specialists are matched with caregivers and their care recipients.
Four hours might not seem like much, but, "It is huge to these caregivers. Four hours is so huge," Raibley stresses in the video.
To find out more about One Source, to donate or to sign up to be trained as a volunteer care specialist, contact Raibley at 530-205-9514 or go to the website at https://empoweringcaregivers.org.
Source: One Source-Empowering Caregivers