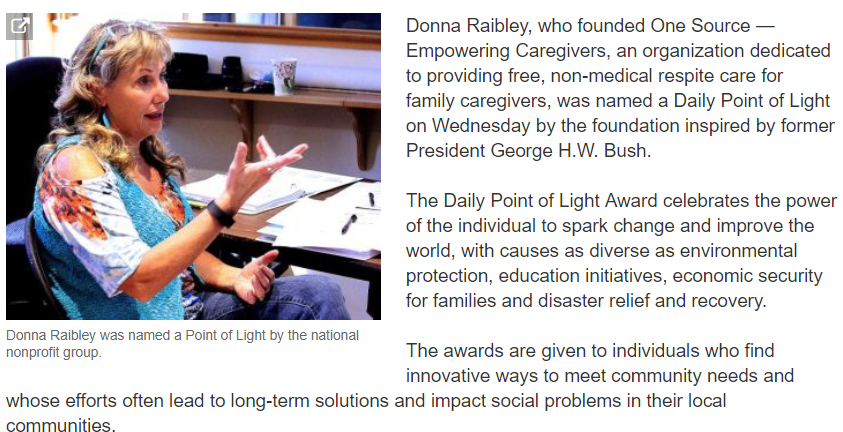 Nevada County Woman Named a Point of Light
Donna Raibley, who founded One Source — Empowering Caregivers, an organization dedicated to providing free, non-medical respite care for family caregivers, was named a Daily Point of Light on Wednesday by the foundation inspired by former President George H.W. Bush.
The Daily Point of Light Award celebrates the power of the individual to spark change and improve the world, with causes as diverse as environmental protection, education initiatives, economic security for families and disaster relief and recovery.
The awards are given to individuals who find innovative ways to meet community needs and whose efforts often lead to long-term solutions and impact social problems in their local communities.
Raibley, 58, established One Source — Empowering Caregivers in 2014, to offer free respite services to caregivers in Nevada County.
Since then, the organization has trained 45 volunteer respite companions to help families who are caring for adult loved ones with disabilities and medical conditions. Of those, 25 are currently assigned to caregivers.
"We're trying to add an element of youth to our volunteer troops to break down some multigenerational barriers," Raibley told the Points of Light organization."It's a way for youths to serve and gain exposure to the care field. We find that a lot of young people are intimidated by an older, chronically ill person, but then they discover that they are still a wonderful person who has a lot to offer. It changes their perspective on the entire situation."
For more information on Raibley's nonprofit, go to https://empoweringcaregivers.org/.
Contact reporter Liz Kellar at 530-477-4236 or by email at lizk@theunion.com.