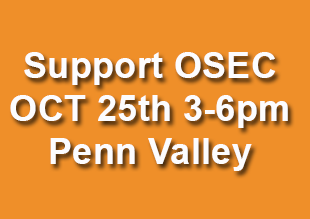 Support OSEC OCT 25th 3-6pm Penn Valley
13th Annual Drive through fundraiser!
Sunday October 25th from 3:00 pm to 6:00 pm at the SDA Church, 17645 Penn Valley Drive, Penn Valley CA
$10 for full meal, $5 for kids
Spaghetti, Garlic, Bread, Salad & Dessert, gluten free options available!
Live Jukebox, raffle tickets, outdoor dining tables for families available.
Benefits  Helping Hands Adult Day Program and OSEC Empowering Caregivers