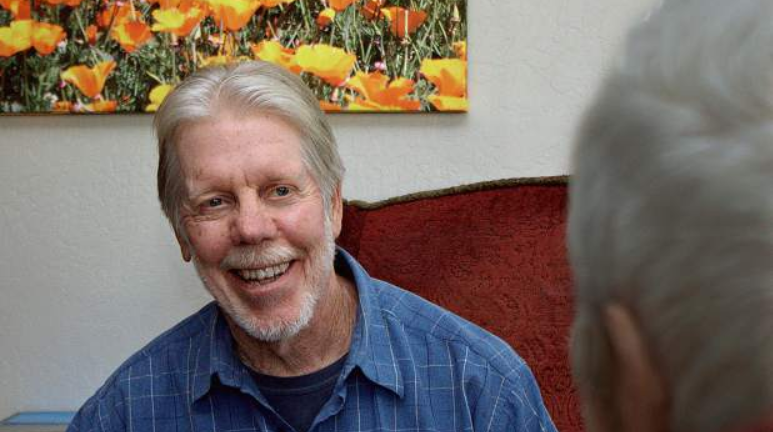 A man among women: George Grist calls for men to join OSEC
Tom Durkin
Special to The Union
April 16, 2018
"Your brothers need you!" is George Grist's call to action to western Nevada County men.
Approximately 53 percent of Nevada County home-care recipients are men, yet 83 percent of their 24/7 caregivers are women and 90 percent of Volunteer Care Specialists certified by One Source-Empowering Caregivers are also women, according to Donna Raibley, executive director and founder of the organization.
That's why Volunteer Care Specialist Grist is so important to the organization's mission to provide free, trained and vetted respite volunteers to 24/7 caregivers, Raibley said.
"Sometimes a sick, disabled or dying man just needs another man," she said. Perhaps better known as KVMR community radio's dynamic DJ Hap Hazard, Grist has taken on a volunteer gig where many men fear to tread.
"My guess is that they would have to face vulnerability," Grist said, and that's "an issue that men have a hard time dealing with."
Having spent four years of his life in Africa, Grist has traveled — both physically and spiritually — to places "where busses cannot take you."
A graduate of One Source-Empowering Caregivers third class of Volunteer Care Specialists, Grist is urging compassionate men to sign up for the organization's free, fourth training series scheduled to start May 19.
THE IMPORTANCE OF ICE CREAM
"OSEC's mission is to improve the quality of life for caregivers by providing free respite to 24/7 caregivers who are caring for their loved ones at home," said Raibley.
Volunteers commit up to four hours a week of non-medical companionship to a care recipient. This provides the caregiver (usually a woman) a break to go shopping, visit friends or do whatever she needs to in order to maintain her physical and spiritual health.
"It is not simply about the time, but the connection that makes a difference," said caregiver Julie (last name omitted for privacy).
"It could be simply five minutes delivering an ice cream that changes a whole day," she said.
Grist is Julie's Volunteer Care Specialist. They've worked out their own "spontaneous" schedule for when Grist comes to be with Julie's husband Larry (not his real name). Larry has dementia and can no longer speak.
"With George, it's never the same thing," Julie said with a laugh. Grist's willingness to be flexible in his visits, "takes a lot of stress off me," she added.
"I look forward to Larry having some male companionship, seeing him smile when George arrives," Julie continued.
"The bonus is that it makes me joyful, and when I am joyful, so is Larry," she finished. "I'm his emotional barometer."
"It's a good match," Grist and Julie agreed.
This makes Harriet Totten happy. As One Source-Empowering Caregivers volunteer coordinator, she said, "Our goal is to make a match where the volunteer, caregiver and care recipient all enjoy each other, and we have been hugely successful at doing this.
"George, Julie and her husband are a perfect example."
VOLUNTEERS ARE ROYALTY
"Because of OSEC, I can break out of my routine and enjoy the outside world," said Julie. "I am not worried about Larry when I am away."
One Source-Empowering Caregivers Volunteer Care Specialists are thoroughly vetted through interviews, background checks, health screenings and three days of intensive training by hand-picked registered nurses and other caregiving experts, Raibley explained.
"We have created a wonderful in-home respite program that empowers the caregivers, the care recipients and our volunteer care specialists," she said.
"OSEC's Volunteer Care Specialists allow the caregiver to attend to much needed time for themselves," she said.
"I love the look on Julie's face when she sees relief has arrived," Grist said with a grin.
Furthermore, Raibley said, "the care recipient gets to have social interaction with someone different and who can bring other creative and helpful elements to the caregiving experience.
"Larry enjoys George's visits," Julie said. Sometimes they go hiking.
Despite the serious nature of the training, "we have a lot of fun!" said the from-the-heart executive director. Raibley takes no salary for running the 501(c)(3) nonprofit she founded in her Cedar Ridge home four years ago.
Volunteers are treated like royalty, Raibley said. The training and class materials are free. During 22 hours and three Saturdays of training, volunteers are given a continental breakfast and a full lunch.
The next training is scheduled for May 19, 26 and June 2 at One Source-Empowering Caregivers offices at 563 Brunswick Road, Suite 11, Grass Valley. The second-floor suite was donated by the building's owner Reginald King, Raibley noted with gratitude.
In fact, Raibley has been dubbed the "queen of gratitude" by her colleagues for her propensity to go out of her way to make every individual in the organization feel appreciated and needed.
"It's not about me," she insists. "It's about us as a community."
Meanwhile, as one of the only two male graduates of One Source-Empowering Caregivers third class of Volunteer Care Specialist volunteers, Grist is urging men to man-up and volunteer.
"This is a great chance to step forth, and join a community of men who are helping their brothers in need," Grist said.
Male or female, "we need volunteers now!" Raibley said. "We have a waiting list of caregivers."
Prospective volunteers are invited to sign up with Donna Raibley at 530-205-9514, 530-802-6154 or draibley@empoweringcaregivers.org.
Tom Durkin is a freelance writer and photographer in Nevada County.
Contact him at tdurkin@vfr.net or http://www.tomdurkin-writer.net.