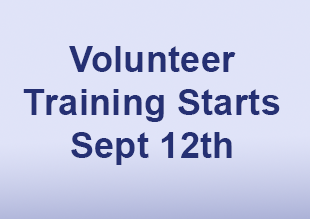 September 12th Next Training
ONE SOURCE- EMPOWERING CAREGIVERS
EVERYONE IS WELCOME TO JOIN IN ON THE PROGRAM
VOLUNTEER TRAINING STARTS
September 12th
Saturday, September 12th from 9:30 am-4:30 pm and a second training will be held in the evenings in October, on Wednesday,7th, 14th, 21st, and 28th from 5:30 pm-7:30 pm
Prospective Volunteers are invited to apply on line. The Volunteer is asked to commit to one
year of service to the organization. A personal interview is required.
The Volunteer training program is intensive and comprehensive, covering a wide range of
topics. The 25 hour program takes place over three meeting days.
There is a module taught by an expert in the field that provides an overview of:
 Caring for the Caregiver
 Listening skills and self-care as a volunteer
 Family systems and communication
 Illness, aging, cognitive loss, and behavior management
 Spirituality, grief, and bereavement
 Volunteer protocols and the many roles of the OSEC volunteer.
A monthly meeting of support and education is offered ongoing for all volunteers: office, in
home assessments, in home visits, and telephone volunteers. Many OSEC volunteers visiting in
the home bond with their "caregivers," often spending more time with them than they have
committed to, and care about their charges, and need to talk about their feelings and
experiences with others in similar situations.
One Source – Empowering Caregivers is growing, and will be adding programs as funding
permits. If you cannot volunteer on a regular basis, there are always other opportunity
available to support the outstanding work being done in the community. One Source
Empowering Caregivers is a one of the kind, non-profit volunteer organization who reaches
those family caregivers, home alone and invisible care providers. The goal is to bring
HOPE to the CAREGIVER.